Intheair Bike, a leading manufacturer of electric bikes, recently unveiled its newest addition to the lineup – the RANGER electric bike. This innovative bike offers an array of features designed to make biking easier, faster, and more fun.
The Ranger is designed with a powerful 500W motor, a large 48V lithium-ion battery, and a range of up to 40 miles per charge. The bike is also equipped with a full range of features, including a Shimano drivetrain, a Bafang LCD display, hydraulic disc brakes, and a full suspension system.
In terms of performance, the Ranger has been praised for its excellent power-to-weight ratio and its ability to accelerate quickly. It has been found to be very capable of handling hills and rough terrain, while still providing a comfortable ride. The bike also features a unique pedal-assist mode, which allows the rider to select a level of assistance that is suitable for the terrain.
The Ranger is also great for those looking to get a little bit of extra power when they ride. The motor provides up to 750 watts of power, which can be used to climb hills or accelerate quickly.
In terms of design, the InTheAir Ranger has been praised for its sleek and modern look. The frame is made of lightweight aluminum, and the components are all high-quality. The bike also features a removable battery, which allows for easy charging and portability.
The RANGER is also equipped with several modern conveniences, including a digital display, USB charging port, and an integrated front light. The display provides riders with important information such as speed, battery level, and range, while the USB port allows riders to easily recharge their devices while on the go. Finally, the integrated front light allows riders to see and be seen during night rides.
In addition to its technical features, the RANGER is also stylishly designed. It comes in several eye-catching colors and its sleek frame makes it a perfect choice for urban environments.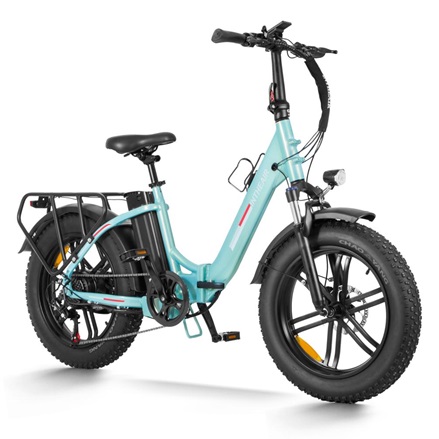 Intheair Ranger tech specs
Motor: 750W brushless gear motor
Top speed: 28 mph (45 km/h)
Range: 30-70 miles (51-88 km)
Battery: 48V 13Ah (624Wh)
Weight: 77 lb (35 kg)
Frame: Aluminum alloy 6061
Suspension: Front suspension fork with 80mm travel
Brakes: Cable & hydraulic 160mm
Extras: Wood inlay LED dot meter for battery gauge and PAS level indicator, thru-axles, torque sensor, tow color options
Spokes: Stainless integrated wheel spokes
Price: $1,399
The electric bike is perfect for anyone who is looking for a powerful and reliable electric bike. With its powerful motor, long range battery, and advanced features, the Ranger is sure to make any ride more enjoyable.
Overall, the InTheAir Ranger electric bike is a great option for anyone looking for a reliable, efficient, and stylish way to get around. It is a great choice for commuting, leisurely rides, and off-road adventures. With its powerful motor, long-lasting battery, and sleek design, the Ranger is sure to be a hit with riders of all levels.